Humidity /Temperature Sensor Module - HTF3223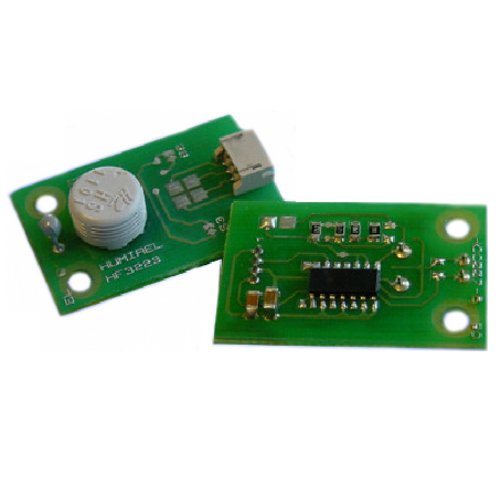 Based on the rugged HS1101 humidity sensor, HF 3223 / HTF 3223 is a dedicated humidity and temperature transducer designed for OEM applications where a reliable and accurate measurement is needed. It features a miniature connector for easy, cost-effective mechanical mounting. Direct interface with a micro-controller is made possible with the module's linear frequency output.
This is frequency output humidity module made with HS1101, and it's applicable to OEM users who need accurate and reliable detection of humidity.This module have small interface,so it can be automatically setup, it can save a lot of cost.
Because it is linear frequency output testing module, therefore it can connect with microprocessor directly.
Applications 

1)  Humidifiers & dehumidifiers  
2)  Air-conditioner  
3)  Humidity data loggers  
4)  Automotive climate control  
5)  Other applications    
Specifications   

Characteristics
: HS1101
Input voltage range
:
DC 5.0±0.2V   
Output voltage range
:
DC 1.0±0.2 V   
Measurement Accuracy
:
±5% RH   
Operating Current (Maximum) 
:
2mA   
Storage RH Range
:
0 to 99% RH   
Operating RH Range
:
10 to 95% (100% RH intermittent)
Transient Condensation
:
< 3%RH   
Temperature Range 
:
-40℃  to 80℃ 
Storage  : -20℃  to 95℃
Hysteresis (RH @ 25℃)
:
MAX 2%RH   
Long Term Stability(typical drift per year)
:
±1.5%   
Linearity : Linearity   
Time Response(63% step change)
:
1 min   
Dimensions(L*W)
:
34mm*22mm*9mm
Click to download the datasheet
下载pdf文档资料.pdf
Write a review

Loading ...
Join our newsletter today, to get latest product information and promotion code.

Loading ...