Universal IR Receiver HS0038B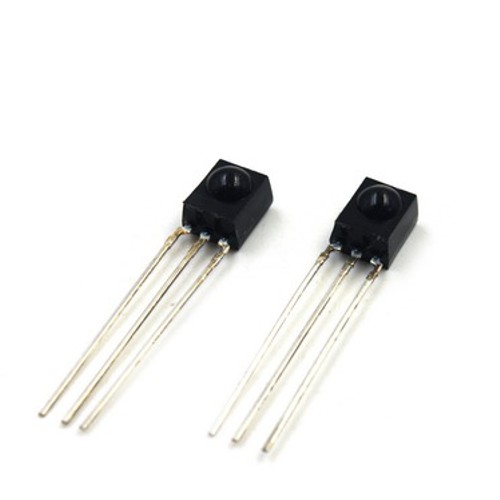 Pin Out
From left to right in the photo: Output, GND, VCC

Description
A miniaturized receiver for infrared remote control and IR data transmission.
PIN diode and preamplifier are assembled on lead frame.
The epoxy package is designed as IR filter.
The demodulated output signal can directly be decoded by a microprocessor.
The main benefit is the operation with high data rates and long distances.


Features
Photo detector and preamplifier in one package 
Internal band filter for PCM frequency
Internal shielding against electrical field disturbance
TTL and CMOS compatibility
Output active low
Small size package
Special Features
Supply voltage 3-5.5 V 
Short settling time after power on
High envelope duty cycle can be received
Enhanced immunity against disturbance from energy saving lamps
B.P.F Center Frequency 38khz
Peak Emission Wavelength 940nm
Application
AV instruments such as Audio, TV, VCR, CD, DVD, MD etc.
Home appliances such as Air conditioner, Fan etc.
The other equipments with wireless remote control.
CATV set top boxes.
Multi-media Equipment.
Sensors and light barrier systems for long distances
IR Receiver Codes
Best works with: Rc6 Code, Rcmm Code, Sony 15bit Code
Also suitable for: Grundig Code, Nec Code, Rc5 Code, R-2000 Code, Rca Code, Sharp Code, Sony 12bit Code, Zenith Code
Not recommended for: Rcs-80 Code, High Data Rate Code
Write a review

Loading ...
Join our newsletter today, to get latest product information and promotion code.

Loading ...