Product |
Breakout
| Wii Nunchuck adapter WiiChuck Shield -Arduino Compatible

Arduino Wii Nunchuck adapter WiiChuck Shield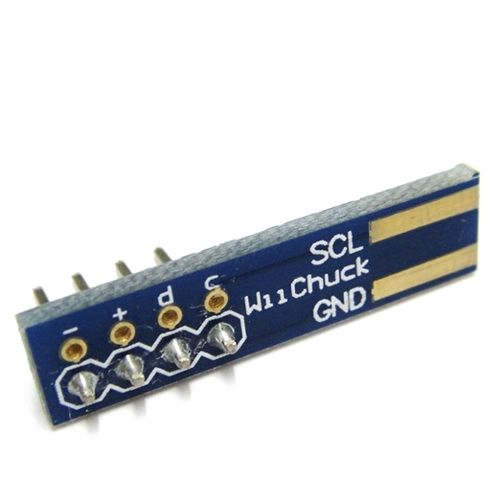 Description :


The WiiChuck Adapter is a small PCB that is designed to be inserted into the connector of a Nintendo Wii Nunchuck to provide access to all 4 wires of the remote. The power, ground and two-wire interface of the Nunchuck are all broken out to a 4-pin 0.1" pitch header. Compared with standard WiiChuck, the DFRobot WiiChuck has extra 4 pins which allow you connect it to two devices.
The Wii Nunchuck is loaded with features -- a 2-axis joystick,
two buttons and a 3 axis ±2g  accelerometer -- and any device capable of I2C can communicate with it! The WiiChuck allows you to interface with the Nunchuck without making a mess and cutting the wires.
Wiichuck is a break out board for
Wii-Nunchuck
. Use this shield to achieve communication between nunchuck and Arduino without broking the controller Wii Nunchuck.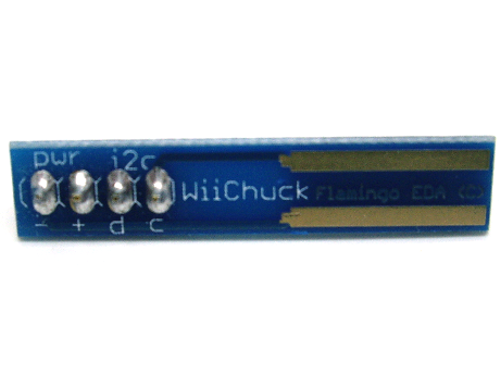 It's simple to use. First connect wiichuck with Nunchuck,(notice the positive negative) ,and Then plug wiichuck into Arduino digital interface as 2,3,4,5 . It's ok now.
Download and uncompress the
WiiChuck libraries
into your Arduino' hardwarelibraries of setup catalog.
Here is the
wiichuck
I use,downloaded the code into Arduino after compiling, then you can see the data returned from Wii Nunchuck on serial watching window(including rocker, XYZ triaxial acceleration, button:
Then you can get communication with Wii Nunchuck.
How to read wii nunchuck data into arduino
Wii Chuck HomePage
Wii Tutorial
Write a review

Loading ...
Join our newsletter today, to get latest product information and promotion code.

Loading ...