Arduino ADXL330 Triaxial Acceleration Sensor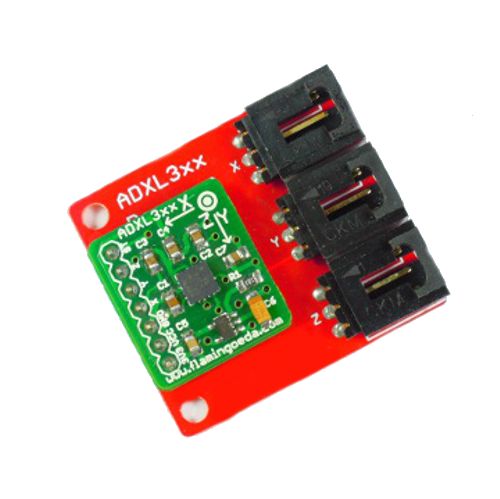 General Description :
The ADXL330 is a small, thin, low power, complete 3-axis accelerometer with signal conditioned voltage outputs, all on a single monolithic IC. The product measures acceleration with a minimum full-scale range of ±3 g. It can measure the static acceleration of gravity in tilt-sensing applications, as well as dynamic acceleration resulting from motion, shock, or vibration.
The user selects the bandwidth of the accelerometer using the CX, CY, and CZ capacitors at the XOUT, YOUT, and ZOUT pins. Bandwidths can be selected to suit the application, with a range of 0.5 Hz to 1600 Hz for X and Y axes, and a range of 0.5 Hz to 550 Hz for the Z axis.
The ADXL330 is available in a small, low profile, 4 mm × 4 mm × 1.45 mm, 16-lead, plastic lead frame chip scale package (LFCSP_LQ).

Special note :
don't inserted and pull the module directly when you don't turn off the power, otherwise it may be damaged, before using this module ,you would better clear static elimination of body, otherwise that may damage the module !
This electronic bricks will extract all pins of X/Y/Z interface,and  you may be directly connect with the
sensor shield
through
sensor cable
or
analog sensor cable
, it support plug and play. The GS2 and GS1 switch can be used to choose the range .
Features :

1、3-axis sensing
2、Small, low-profile package
3、4 mm × 4 mm × 1.45 mm LFCSP
4、Low power
5、180 μA at VS = 1.8 V (typical)
6、Single-supply operation
7、1.8 V to 3.6 V
8、10,000 g shock survival
9、Excellent temperature stability
10、BW adjustment with a single capacitor per axis
11、RoHS/WEEE lead-free compliant
Specification :
1)  Voltage: 1.8V-3.6V
2)  Acceleration Range: ±3.6g
3)  Low power: 500μA @ measurement mode,3μA @standby ;
4)  High sensivity: 300 mV/g
5)  Output Type: Analog  
6)  Bandwidth: 1.6kHz - XY, 550Hz - Z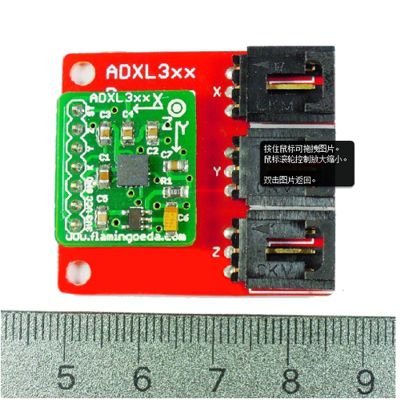 How to use ADXL330 module ?
1、Connect Arduino and Arduino sensor shield :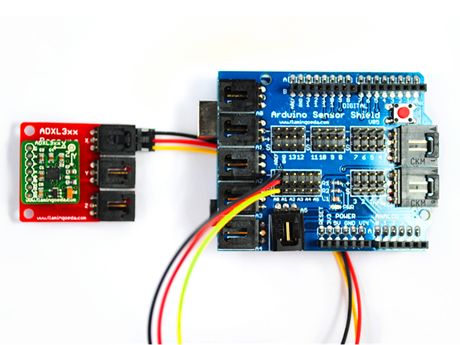 2、Connect Arduino sensor shield with ADXL330 module. if you need to use the X、Y、Z, then connect three interfaces X、Y、Z  with A0、A1、A2 to of sensor shield.
Note :
The red cable should connect with the positive (" + ") of the sensor shield;
The black cable should connect with the positive (" - ") of the sensor shield;
The yellow cable should connect with the positive (" S ") of the sensor shield.
Then you can use the ADXL330 module now !
Applications :
1) Cost-sensitive, low power, motion- and tilt-sensing applications
2) Mobile devices
3) Gaming systems
4) Disk drive protection
5) Image stabilization
6) Sports and health devices
Click to download the ADXL330 datasheet
下载pdf文档资料.pdf
Write a review

Loading ...
Join our newsletter today, to get latest product information and promotion code.

Loading ...