Mini MP3 SD Card Sound Module






Feature :
 
1、Support MP3 format files.

2、Support SD card, 1GB max.

3、Change voice in SD card easily by PC.

4、Four kind of control mode :Standard mode(mp3 mode), key mode, parallel mode, serial mode.

5、Support to playback background music and slogans.

6、Playing any music as you like randomly.

7、Widely use in the industry.

8、Operating voltage: DC5V.

9、Dimension: 41mm X 39mm.

10、SD card storage structure.

This module is only able to identify file folder named from advert00~advert99 in SD card.All the audio files should be stored in one of advert00~ advert99.
In standard mode, key mode and parallel mode, it can only read or write contents inside the folder advert01. Serial mode can work on the 100 folders of advert00~advert99. Under advertXX folder, there can only be files named 000.mp3~999.mp3

In advert01 folder, there is a file named "cof.mp3" whose beginning content records its working mode. It can be a number 1, 2, or 3, which represented as follows :

1)Number "1" indicates that the module works in standard mode
2)Number "2" indicates that the module works in key patterns
3)Number "3" indicates that the module works in parallel mode

"Cof.mp3" the file can opened using "Notepad". By manually change this number, you can change the working mode. This feature may be helpful while testing the module by using computer. "cof.mp3"can be created as follows: Create a new Notepad document, written a number "2", save, close. And then change "txt" suffix into "mp3".
Background music or advertising usage

SD card modules can play background music and advertising only in serial port mode. One characteristic is that if a slogan is inserted while the background music is playing, background music will stop and then continue to play from the breakpoint after the slagon is finished.

Control example: Sends the command to play background music. If we need to play 007.mp3 in the folder advert03. Then send data through serial port modes:
7E 07 A0 30 33 30 30 37 7E
Then the background music starts playing. When the background music is playing, advertisement 015.mp3 needs to be inserted, you can send the command:
7E 07 B0 30 34 30 31 35 7E

After finishing playing the advertising slogan, it continue to play background music.
 

Pin Definition :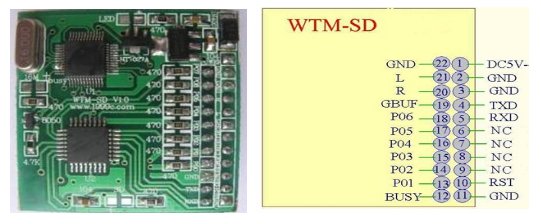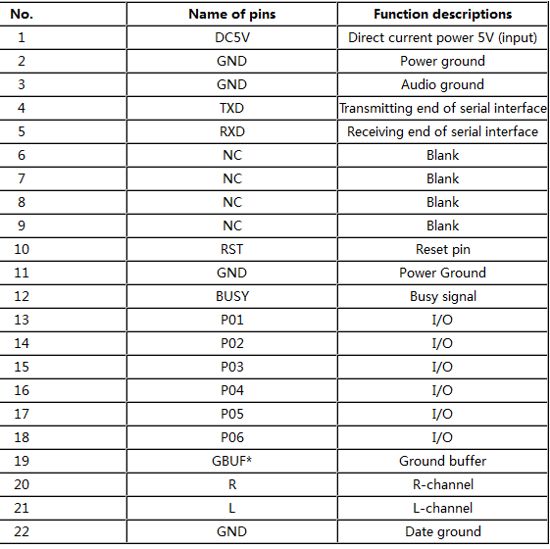 Test circuit :

Before serial test, insert SD card, power it on, check if the module is working properly. If the power light and SD light (indicating the module can recognize the SD card) are both on, it works well. Otherwise, check the following:

It only supports SD card of 32M~1G. Card format is FAT.

There is a folder named "advert01",and in that folder there is a configuration file for the "cof.mp3", which number only 1 or 2 or 3.

This circuit is for debugging serial port, as follows :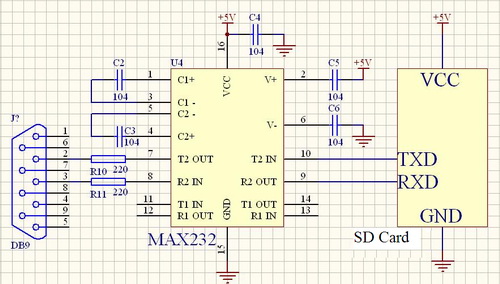 RS232 port is directly connected to the computer. Through software based on the serial port commands is sent to the SD card module. You can test the module.

Audio Output description :

1. L, R channels and GND connection, note the 100UF Capacitor :
 


2. L, R on GBUF connection :
 

3. L, R ,external amplifier connection :
 
下载pdf文档资料.pdf
Write a review

Loading ...
Join our newsletter today, to get latest product information and promotion code.

Loading ...