Adjustable Breadboard Power Supply V2.0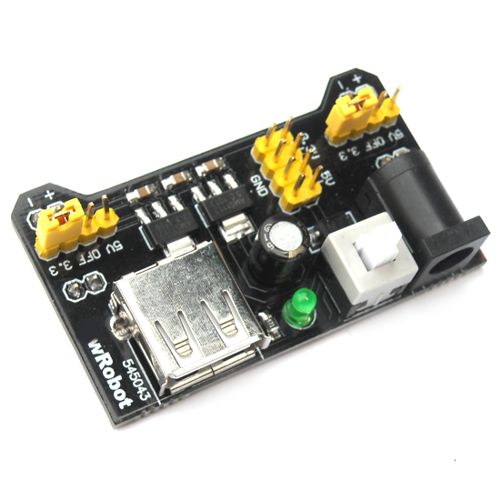 Adjustable Breadboard Power Supply V2.0 can directly takes power from DC wall wart and outputs a selectable 5V or 3.3V regulated voltage.
Compare to other breadboard power supply designs, this one provided USB Type-A port like the Arduino family, you can toggle the switch and select your power source. (USB or dc jack). We also used JST-2pin power jack ,the one as on Arduino family,
With this board, you can send power to both power lane of the breadboard, and each side has a on/off switch.
Feature :
1、Compatible with 5 V、3.3 V
2、The input voltage: 6.5-12 V (DC) or USB power supply
3、The output voltage: 3.3 V or 5 V and can switch over according to your need
4、Maximum output current: < 700 ma
5、Independent control for two channel, and can switch over to 0 V or 3.3 V or 5 V according to your need
6、On-board two groups of 3.3 V, 5 V DC output plug needle, convenient for external useage
7、Fit 2.54mm pitch Breadboard
8、Power LED
9、PCB Size : 35mm*55mm
10、Good item for project with Arduino , 8051, AVR, PIC, DSP, ARM 
This item can be used together with
Arduino Self-Adhesive Breadboard - 165×55×10mm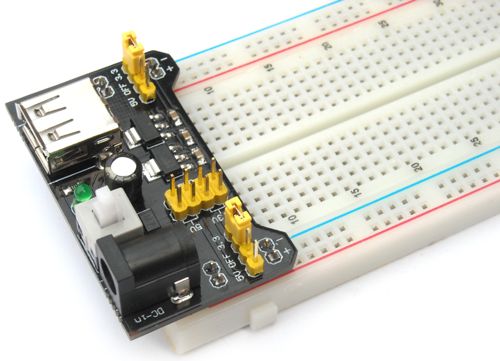 下载pdf文档资料.pdf
Write a review

Loading ...
Join our newsletter today, to get latest product information and promotion code.

Loading ...