Product |
Communication
|
RF
| 2KM Long Range RF Link Kits With Encoder And Decoder - 433Mhz

2KM Long Range RF Link Kits With Encoder And Decoder - 433Mhz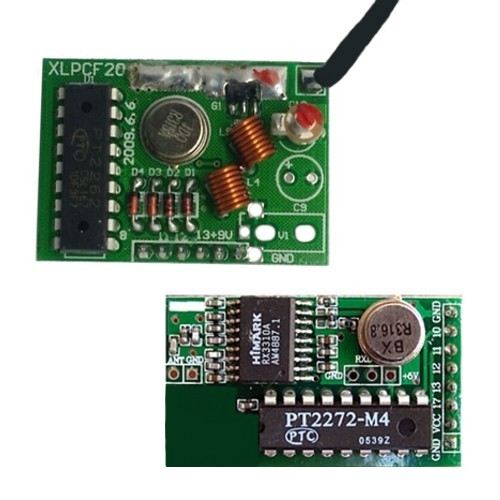 This is 433Mhz version, if you need 315Mhz version, please click this link:

2KM Long Range RF Link Kits With Encoder And Decoder - 315Mhz

1、Transmitter Module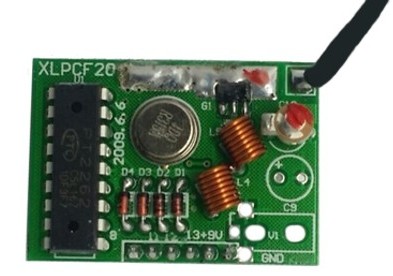 This is a super long range 433Mhz RF link kit comes with vco, pll technology, steady frequency and super anti-jamming ability. You can directly use it with your project like wireless data transport and remote control etc.

Special Parameter
Frequency: 433Mhz
Modulation: ASK
Working Voltage: 6-9V DC
Frequency difference:min±75KHz max±150KHz
Timing resistor:1.5M
Launching power: 50mW(9V)
Working current:<10mA(9V)
Frequency stability:0.037ppm/℃
Temperature range:-20℃--+85℃
Transmission rate:≤10Kbps
Encoder : PT2262
Receiver Sensibility: -105dbm
Emission Distance: 2000m in open ground
Size : 47.5 x 30 x 10mm
The transmitter module have one 23cm separate onboard antenna
When using this module, please erect it straight, and do not rely on other objects.
When using high power transmission board, please take special attention : when launching , please do not touch the launch antenna and do no touch the launch part on the circuit board.
2、Receiver Module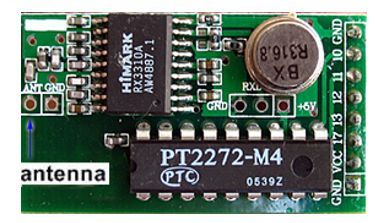 This is superregeneration Decoder Receiver

Decoder : PT2272

Size: 41 x 24 x 6mm

It can be compatible with transmitter with 2262 chip, 433Mhz, and 1.5M Timing resistor

Specialized superheterodyne receiving module has an inherent disadvantages:

When remote control signal is too strong and the module oscillation signal will be blocked, and unable to properly receive signal.

So at this time, you should be away for some distance (such as 10 meters) and then it can work normally.
 
In order to test whether the receiving modules work normally, give a 5 v dc voltag between the VCC and GND interface of receiving module, and connect light emitting diode with pin 10, 11, 12, 13, 17 interface respectively.
When we press A button of trasmitter module, its corresponding pin 11 road LED will be light, until press the other button such as B key, pin 11 extinguish and pin 12 will be light.
Pin 17 interface is the effective decoding output port, no matter which button of the transmitter we push, it will become high level as long as decoding successfully, the transmitter stop transmitting immediately and it will extinguish.
Warning: this kit is not suitable for data transfer but remote control. Safe for 2 commands/second

Encoding and Decoding :

The popular link is like this: MCU->Encoder->Transmitter->Receiver->Decoder->MCU

PT2262(Encoder) and PT2272(Decoder) are optional, their existence is to 1)avoid confusing when multiple RF links in range 2) isolate disturbance. You can integrate the encoding and decoding work to the MCUs on both side. Whenever there is no 433Mhz devices around, you may use it as direct cable connection.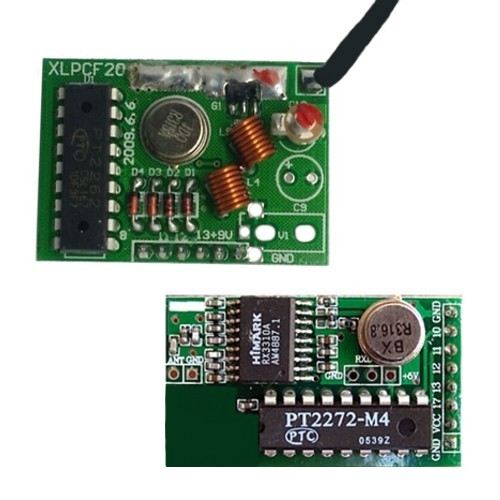 It would better choose 7V dc power with stable voltage and good filtering (at least 470UF + 0.1 UF filter capacitance).
Please be careful that high voltage will easily burned the module.
Then connect the power negative port with GND, and connect positive port with VCC and 13 pin at the same time, then the red led on this module will be lighted and send high frequency signal.
When the power supply voltage is 6V, the emission current is about 180 ma;
When the power supply voltage is 7V, the emission current is about 200 ma;
When the power supply voltage is 9V, the emission current is about 250 ma.
If you want to use this module with other systems with different oscillation resistance, please change the oscillation resistanceto between pin 15 of IC 2262 and pin 16 of IC 2262.
Click to download the manual
Click to download Datasheet for PT2272 and PT2262
Write a review

Loading ...
Join our newsletter today, to get latest product information and promotion code.

Loading ...