BMP085 Barometric Digital Pressure Sensor Module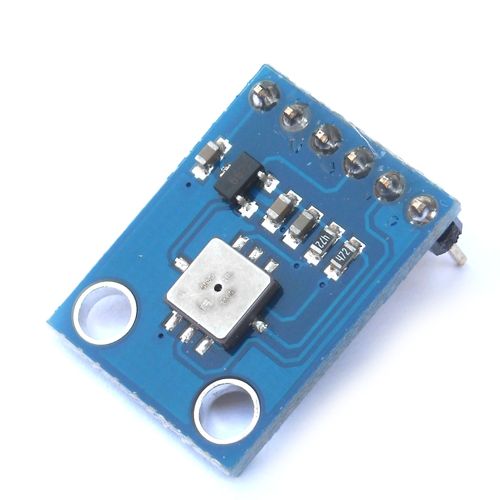 Description :
BMP085 is a kind of high precision, ultra-low power consumption pressure sensors, can be applied to mobile devices. Its excellent performance makes the absolute precision reach the minimum 0.03hPa, and it is with very low power consumption, only 3μA.
BMP085 powerful 8-pin ceramic-lead chip carrier (LCC) ultra-thin package and can be connected directly with a variety of microprocessors through I2C bus.


Main Features :
- Pressure range: 300 - 1100hPa (9000 meters above sea level to -500 m).
- Power supply voltage: 3V-5V.
- LCC8 package: lead-free ceramic carrier package (LCC).
- Size:2cm×1.57cm.
- Low power consumption: 5μA in standard mode.
- Precision: low-power mode, the resolution of 0.06hPa (0.5 m).
- High linear mode with a resolution of 0.03hPa (0.25 m).
- Means of communication: IIC communication protocol.
- With temperature output.
- Response time: 7.5ms.
- Standby current: 0.1μA.
- Eliminates the need for an external clock circuit.
- Temperature compensation.
- Lead-free, RoHS compliant.


Typical applications :
- GPS precise navigation (dead reckoning, the upper and lower bridge detection, etc.).
- Indoor and outdoor navigation.
- Leisure, sports and medical health monitoring.
- Vertical speed indicator (up / sinking speed).
- Fan power control.




Example :
More details will be shown step by step in the test file.
Download the
Arduino Library for BMP085
and extract it to your library folder in your Arduino installation. Mine is here: C: Program Files arduino-0021libraries.
Connect this module with Arduino :
Arduino GND -> BMP085 GND
Arduino 3.3V -> BMP085 VCC
Arduino A4 (SDA) -> BMP085 SDA
Arduino A5 (SCL) -> BMP085 SCL
Here we use Arduino Sensor Shield to make connection very easy.
Write a review

Loading ...
Join our newsletter today, to get latest product information and promotion code.

Loading ...