Product |
RFID & NFC
| ER301 USB RFID Reader/Writer Kit
13.56Mhz USB RFID Reader/Writer Kit -ER301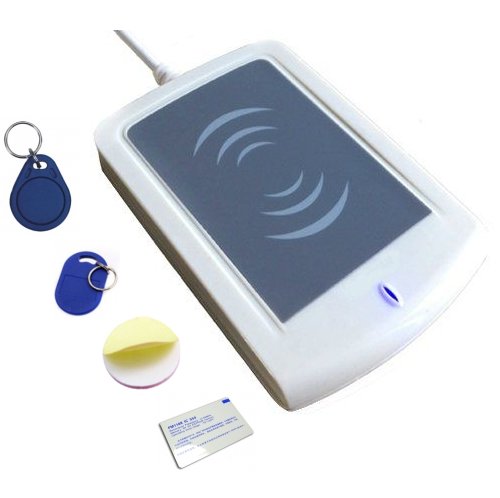 1、Overview
This ER301+eReader RFID module is a PC-linked contactless smart card reader/writer module developed based on the 13.56 MHz Contactless (RFID) Technology. It supports Mifare and ISO 14443A cards.
This ER301+eReader RFID module use USB port to act as a virtual COM port. The proximity operating distance of YHY523U is up to 10 cm, depending on the type of contactless tag in use.
This ER301+eReader RFID module is ideal for secure personal identity verification、access control、e-payment、e-ticketing for events and mass transit、toll road fare collection and network authentication.
We embeded an MCU on this module. By sending command via USB interface, you can make it work. Operation is very easy. Most work is done by the embeded MCU.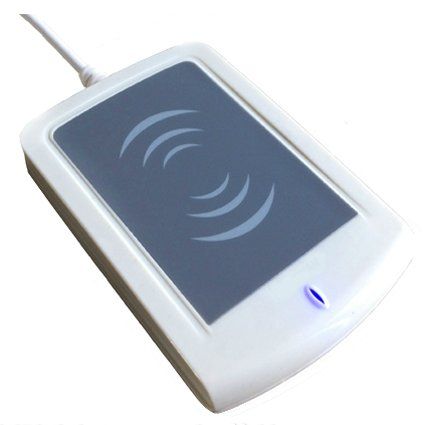 2、Special Features
1、Support ISO 14443A/Mifare_One(S50&S70) card
2、RF Frequency: 13.56 MHz
3、Typical time of command:<35ms
4、Operating distance: up to 10 cm
5、Communications Interface: USB
6、Two LED indicators(software controlled)
7、Communications Interface: USB
8、Buzzer alarm (software controlled)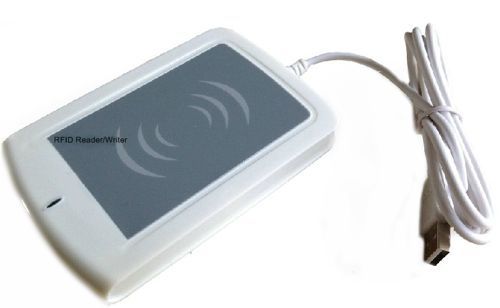 3、Technical Parameter
Frequency: 13.56MHz
Smart Card Supported: ISO 14443A/Mifare_one S50,S70
RF Speed: 212 kbps
Interface: USB
Supply Voltage: 5V DC(USB power)
Supply Current: 42mA(operating);22mA(close port);60mA(maximum)
Typical Operating Distance: Up to 10cm(depends on the tag type)
Baud rate: 115200 bps (default)
Operating Temperature: -10℃ ~ + 50℃
Storage Temperature: -20℃ ~ + 70℃
Dimensions: 120mm(L)×80mm(W)×16mm(H)
Material: ABS
Color: White
Cable Length: 1.5m
Weight: 100g(including USB Cable)
System: Win NT、Win XP、Win2k、Win Vista、Win7、Win8、Linux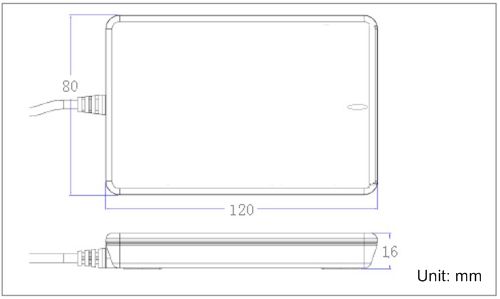 4、Typical Applications
1、E-Payment
2、E-Healthcare
3、E-Game
4、E-Government
5、E-Ticketing
6、Access Control
7、Network Login
8、Transportation
9、Loyalty Program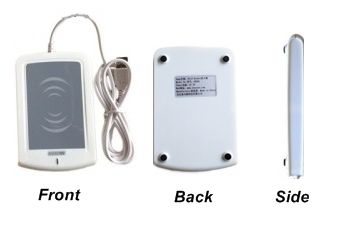 The RFID have one powerful SDK software eReader (V4.2), you can save a lot of time when you use this module, it has some new special functions :
1、Can read the card serial number and translate into 4 formats.
2、Can save the SN as text or execel file.
3、Can emulate key strike and print customized string,can be used to login web.
4、Can load a file into a card or read it from a card.
5、Can read or write information directly on the "person" or "product" page.
6、Can save the eValue into a execel file.
These functions can save your time and smart your readers. Please download our
SDK Zip Zocument
to get more information about this software.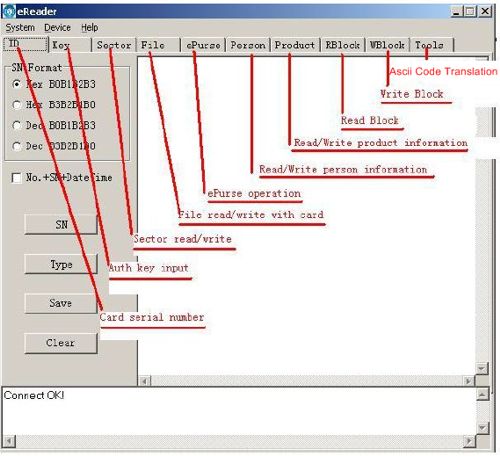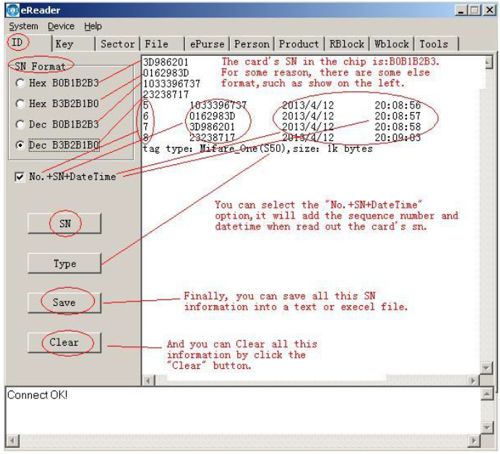 Click here to download the SDK Zip Document
Software Pack :
SDK (C#,VB,VC,DELPHI- demo program and source code)
Demo program - show how to read and write data from the tag
Source original code - speed up software development time
Detail DLL command set
Data sheet & user manual
USB to virtual com driver

13.56Mhz USB RFID Reader/Writer Kit List:
1、13.56Mhz USB RFID Reader/Writer ×1
2、13.56MHz RFID Card ×1
3、13.56MHz RFID Key IC Tag - B ×1
4、13.56MHz RFID Key IC Tag - A   ×1
5、13.56MHz RFID Key IC Lable  ×1
Write a review

Loading ...
Join our newsletter today, to get latest product information and promotion code.

Loading ...