Product |
Breakout
| Arduino Easy Module Shield

Arduino Easy Module Shield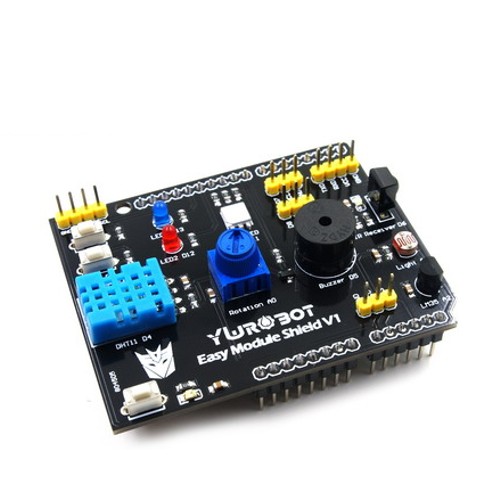 Overview

Arduino Easy Module Shield is a beautiful and convenient module for Arduino starter to do some basic experiment. This shield integrate various module functions and you can directly program to complete the experiment without welding and cables.

This shield can be fully compatible with the Arduino UNO R3 and adopt custom row needle, it will never short circuit with the Arduino UNO USB interface, so this shield is very safe.

We will test all of the modules before we ship them out and we also supply all of the module test code library files, so it means that you can use it directly after you get this shield from our online store, what you need to do is just enjoy this wonderful shield.

Technical Parameter

Model: Easy Module shields V1

Size: 70*53 mm

Platform: the Arduino

Functional Modules as follows:

1、Two channels key module

2、Two channels LED module

3、Full color LED module

4、Infrared receiving module

5、Luminance sensor module

6、LM35D temperature sensor module

7、Passive buzzer module

8、Rotate potentiometer module

9、DHT11 temperature and humidity sensor module

10、One I2C interface (A4 SDA, A5 SCL)

11、One TTL serial port

12、Two-way digital port (D7、D8)

13、Two channels analog ports (A3)

14、Reset button

Specification

Fully compatible with the Arduino UNO R3 interface.

Supply basic experiment module for Arduino starter.

A board integrate various module functions.

Without welding and wires, directly program to complete the experiment.

Provides all of the module code library files, all being tested, can be used directly.

Reserved expansion port, can complete other modules experiment.

Custom row needle, will not short circuit with the USB interface of the Arduino UNO.

Excellent PCB design, beautiful and convenient.
Write a review

Loading ...
Join our newsletter today, to get latest product information and promotion code.

Loading ...